Are you interested in learning the science behind tempe? Would you like to hear about this super food from academic, entrepreneur, and industrial point of view? Do you want to dig more on fermented foods?
Department of Food Science and Technology – IPB University will be conducting The 6th Summer Course Program 2023 about TEMPE: INDONESIAN CULTURAL HERITAGE FOR THE WORLD.
Program
This summer course is a 2-weeks semi-online program that unravel the secret behind tempe, Indonesian indigenous fermented food. All lectures will be done through online platform (Zoom meeting). Participants may choose to do the practical work on-site at our laboratory at the Department of Food Science and Technology, IPB University or from their own place. The practical work will be streamed online to provide real-time guidance for all participants.
Some topics covered include:
Tempe as Indonesian cultural heritage for the world
Fermentation technology: theory and application
Fermentation technology of tempe: Chemical and microbiological changes during tempe fermentation
Research on "quick" tempe
Tempe-based food products: Development strategies
Challenges of developing tempe business abroad
Current status of International Standard and trade of fermented foods
Production/ product development of tempe-based product at industrial level (to be confirmed)
The science of cheese
Korean typical fermented foods and their functionalities
Interpretation of ethno-microbiology of ethnic Indian fermented foods by metagenomics approaches
Activities
Lecture (online)
Practical work: tempe making
Practical work: Preparing tempe-based Indonesian signature dish
Field trip to Rumah Tempe Indonesia (offline, optional)
Virtual field trip to TempeLand (online)
Group assignment, discussion, and presentation
Speakers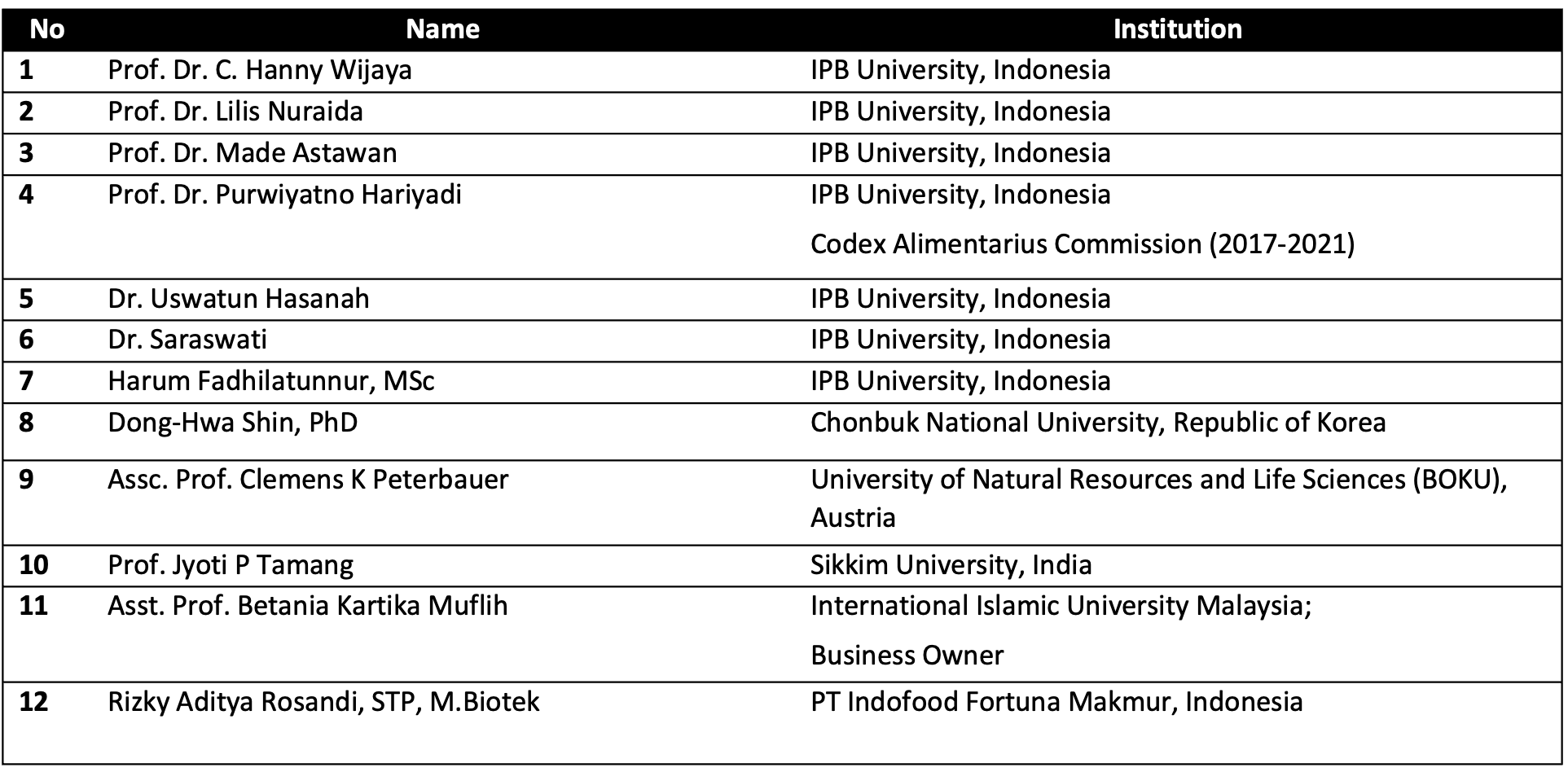 Program Date
Monday, July 24 – Friday, August 4, 2023
Program Schedule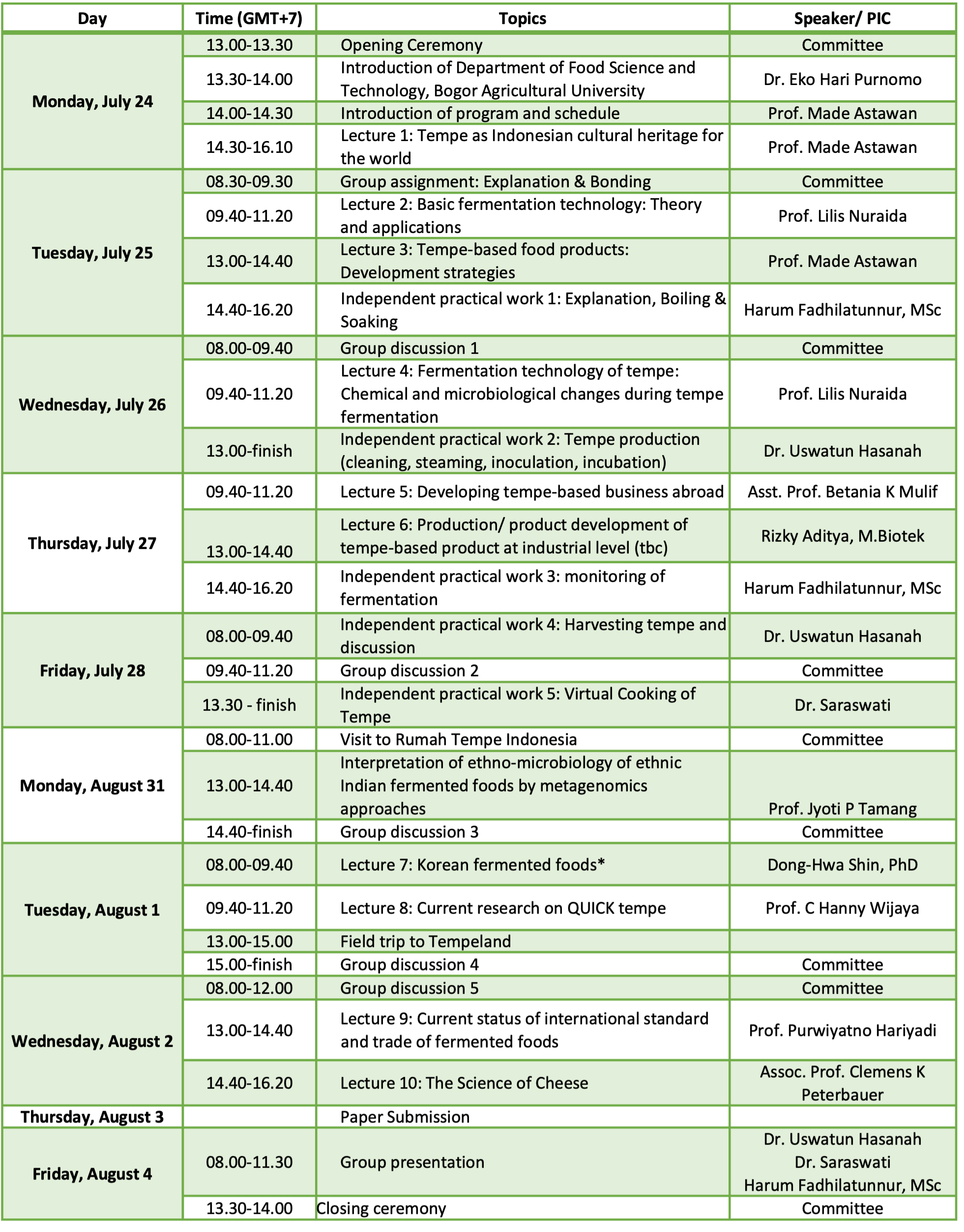 Benefit
Transferable course credit (2 credits)
Certificate
Experienced lecturers
Program Fee
International students: USD 20,-
Indonesian students: IDR 250.000,-
DFST students (IPB University): IDR 100.000,-
Professionals: USD 50,- or IDR 750.000,-
Please transfer to:
Bank Name: BNI
Bank country and city: INDONESIA, BOGOR
Bank branch address : Jl. Ir. H.Djuanda, Bogor Indonesia
Exact bank account holder's name: REKTOR IPB c.q KS FATETA
Account number: 3889948
Account currency: IDR
Bank branch code or sort code: –
IBAN Code: –
SWIFT Code: BNINIDJABGR
How to apply
This program is recommended for university student in the field of life sciences (Food Science/ Technology, Biology, Biochemistry, Chemistry, etc).
You can fill in the application form and attach the documents needed (proof of payment receipt, copy of passport, copy of ID/student ID card) at the link below:
Application is opened until July 14th, 2023.
Contact Person:
Harum Fadhilatunnur (summercoursetempe@gmail.com)